关于英文介绍信五篇
  随着社会一步步向前发展,我们用到介绍信的地方越来越多,介绍信是机关、团体、企事业单位介绍本单位的人员到其他单位接洽、联系、磋商工作和事情等所写的一种专用书信。那么,怎么去写介绍信呢?下面是小编收集整理的英文介绍信5篇,希望对大家有所帮助。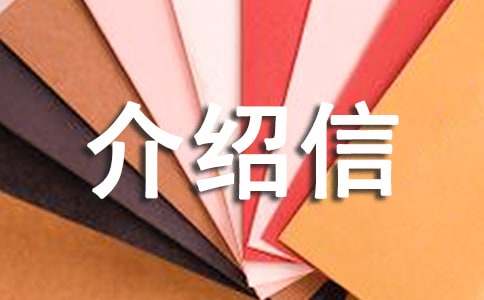 英文介绍信 篇1
  1 文体介绍
  正式介绍信是写信人因公务把自己的同事或业务关系介绍给某单位或某个人。 这种介绍信言和格式比较规范、严谨, 内容一般包括以下几个方面:
  (1)简单地介绍一下被介绍人的身份和情况。
  (2)说明事由,并要求对方对被介绍人提供某种帮助。
  (3)对对方的帮助预先表示感谢。
  (4)如果是熟悉的业务往来或老的工作关系,也可以附带询问一下工作上的`近况和向对方致以问候。
  (5)介绍信一般篇幅不长,前三个方面的内容常常可以放在一个段落里。
  例
  (1)subject: introductiondear mr. / ms.,
  this is to introduce mr. frank jones, our new marketingspecialist who will be in london from april 5 to mid april on business. we shall appreciate any help you can give mr. jones and will always be happy to
  reciprocate.
  yours faithfully,
  yang ning
英文介绍信 篇2
  The Embassy of Germany in Beijing
  此处写单位英文名称 People's Republic of China Presents its compliments to the Embassy of Germany in Beijing and has the honor to request for the issue of entry visas of Germany for 此处写学员姓名的汉语拼音, who is leaving China on October, 3, 20xx.此处写单位英文名称avails itself of this opportunity to renew to the Embassy of Germany the assurances of its highest consideration.·介绍信模板 ·介绍信格式 ·实习介绍信 ·入党介绍信 ·自我介绍信此处写英文单位名称,并盖章
  July 5, 20xx
英文介绍信 篇3
  dear mr. / ms,
  we are pleased to introduce mr. wang you, our import manager of textiles department. mr. wang is spending three weeks in your city to develop our business with chief manufactures and to make purchases of decorative fabrics for the coming season.
  we shall be most grateful if you will introduce him to reliable manufacturers and give him any help or advice he may need.
  yours faithfully,
  yang ning
尊敬的先生/小姐:
  我们非常高兴向您介绍我们纺织部的进口经理王有先生。王先生将在你市度过三周,他要与主要的生产厂家拓展商务并为下一季度采购装饰织品。 如能介绍他给可靠的生产厂家,向他提供所需的任何帮助或建议,我们将不胜感谢。
  您诚挚的杨宁
英文介绍信 篇4
  November **, ****
  To Whom It May Concern:
  This is to confirm that Mr. Li Dashui has worked as a full-time system analyst in the NY University since Jun 1994(or This letter is to verify that Mr. Li Dashui worked as an chemist from July 1993 to Sept. 1994). Mr. Lis main duties and responsibilities are as follows:
  Design, develop and install various computer hardware, software and network systems for banks.
  Determine and analyze the requirements of each system project into related componets solved through the application of computer technology.
  Write specifications for computer programs, and test and implement programs for network systems and control systems.
  Supervise computer programmers and other system analysts for paticular system projects.
  Mr. Li has mainly taken part in the following projects:
  The first engineering design of city general business computer network system.
  Upgrading banks system for IBM AS/400 E45 to IBM AS/400 320, IBM AS/400 530.
  The design development and test of city general business computer network system.
  The design and development network and database systems for the Golden Credit Card Project.
  Mr. Li is well experienced with IBM AS/400 system analysis, TCP/IP protocol, SNA protocol and LAN; proficient in RPGIII, VB, C/C++ and DB2, and skilled in UNIX, Informix, Client/Server etc.
  Mr. Li is a hard-working and talented analyst, and is highly respected member in our company. If you need further information, please feel free to contact me. Sincerely yours, Singature, Zhang Jianguo
  Senior Engineer and Technical Manage Company Name, Address, Tex Fax
英文介绍信 篇5
  At the request of Mr.Xizhen Chen,my former student in the Department of Computer Science,Beijing Univ.of Sciences,I am glad to write this letter furnishing my uation ofhis academic aptitude for your reference.Mr.Chen is interested in your graduate program in Computer Science.I came to know him in September 1987 when Mr.Chen enrolled in my class on FORTRAN IV Programming,a three semesters''course.In the class he was one of the most outstanding students.At the semester final he earned ahigh grade of 81,which should be"A"according to our grading system.I also ound him good at other studies.After the class,he had personal talks with me several times.
  He indicated agreat interest in computer hardware,In my opinion,Mr.Chen has apotential in Computer Science,which can be further developed.In view of his previous achievements in this College,I am firmly convinced that Mr.Chen will make asuccessful graduate student.Your favorable consideration of his admission will be hi ghly appreciated.
  I am pleased to write this letter for my former student Miss Nan Li,who graduated from this College with an L.B.degree in June 1978.Miss Li was admitted to the Department of Law of this College in 1974 through highly competitive entrance examination whi ch is conducted annually and is open to the whole nation.Even in such aselective group.Miss Li made herself distinguished.As professor and dean of the College,I have access to her records of academic work and moral conduct,In her fourth year study,I instructed her in Anglo-American Laws on Trespass.So Ihave known her quite well.Miss Li''s performance,like that in many other courses she taken,was excellent with asuperior grade of 86 for the first semester,and 84 for the second semester.
  In our university and in other university here,80 is considered"A",the highest level.As far as Iknow,Miss Li wishes to continue her study in Law for an advanced degree.I am sure she has had sufficient prerequisite knowledge for the subject and certainly has the ability to undertake the study.I recommend Miss Li without reservation and shall appreciate your favorable consideration of her application.
【关于英文介绍信五篇】相关文章:
1.英文介绍信
8.英文介绍信九篇